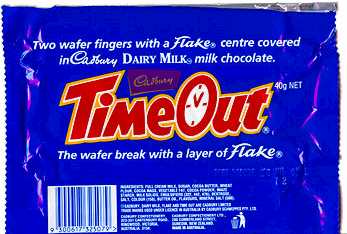 This Time Out bar is evidence of the poor state of chocolate today. There's nothing new or creative here: it's simply a rather nonsensical combination of a Cadbury Flake bar with a chocolate stick. And what happens when you take a Flake bar but you sort of de-Flakeify it a bit?
A: You get an ugly Flake bar with none of those pretty ripply chocolate layers of a normal Flake that almost make you forget you're eating crappy Cadbury chocolate.
In any case, it seems this is only sold in Ireland. What does that mean about the Irish market? About the Irish as chocolate consumers? Do they have lower chocolate standards than in the rest of the English empire? Or are they simply
too nice
to complain?
P.S. I'm sorry I'm unable to post anything more interesting today but it really upsets me that Cadbury has decided that a particular country isn't worth its attention and that the Irish won't mind simply because they've never had better. I think it's my duty as a good citizen to call attention to such mistreatment.
Categories: Flake, Cadbury, Ireland