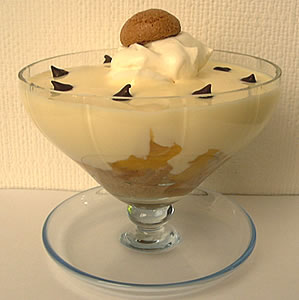 I've built up a reputation amongst my friends and colleagues as a bit of a sugar freak. Mind you, it hasn't been intentional. I simply can't help it if each time someone mentions chocolate or sugar my eyes light up and a smile sweeps across my face as I'm transported to Candyland.
While having such a reputation usually comes in handy and can often mean I garner extra sweets from those around me, it can also be a bit of a pain. The peer pressure to eat everything people give you is enormous.
Take last weekend. We were invited to a Christmas party--my first English Christmas party!--which was full of wonderful food. As I passed through the kitchen I asked the hostess what was for dessert.
"It's sweet! You'll like it!" she responded.
When dessert was served, I stared in horror at this gelatin-y mass of gelatin wobbling atop some fruit and spongey stuff. Everyone else ooohed and aahed. But I was reminded of golashes walking through mud.
The hostess dished up a large portion for me, handing this thing—"trifle" she called it—over to me with a smile. Knowing that I always give a big thumbs-up to all of her desserts, she watched me closely as I took my first bite. And my second. And my third.
I had to finish the whole thing.
Peer pressure--and trifle--are horrible things. Once again, the English have distinguished themselves in an unfortunate way.